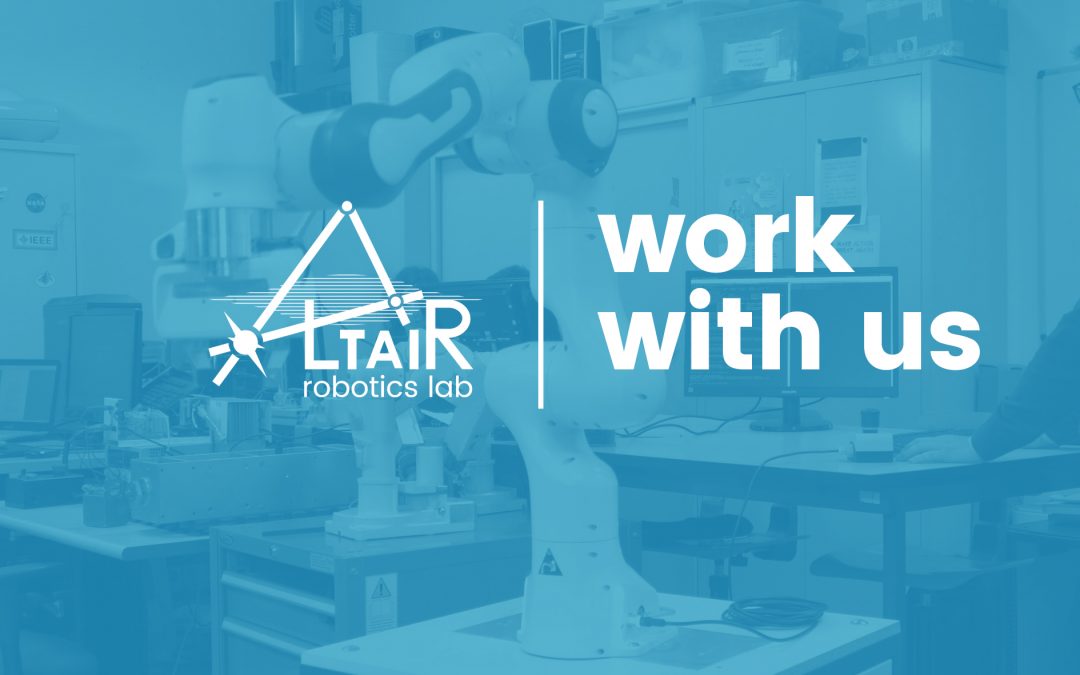 The National Ph.D. Program in Autonomous Systems
📣 OPEN POSITION 📣 𝗜𝗻𝗱𝘂𝘀𝘁𝗿𝗶𝗮𝗹 𝗣𝗵𝗗 𝗶𝗻 𝗖𝗮𝘂𝘀𝗮𝗹 𝗺𝗮𝗰𝗵𝗶𝗻𝗲 𝗹𝗲𝗮𝗿𝗻𝗶𝗻𝗴 [𝗦𝗰𝗵𝗼𝗹𝗮𝗿𝘀𝗵𝗶𝗽]
3 years fully paid Scholarship – Industrial PhD in Causal machine learning 
3 years fully paid scholarship
12 months of industrial experience in a leading company
6 months study and research at Technische Universität Darmstadt (Germany)
12K Euros extra funding for personal support
Deadline for application: September 12, 2022
Starting date: November 1, 2022
SUMMARY
The Altair Robotics Laboratory at the University of Verona invites applicants from aspiring Ph.D. students with a focus on algorithms for machine learning and causal inference.
The project is entitled "Causal representation learning for time series monitoring in continuous food manufacturing processes".
The goal is to implement causal machine learning techniques to control and optimize continuous manufacturing productions within a plant-wise approach.
The candidate will be supervised by Professor Paolo Fiorini and co-supervised by Diego Dall'Alba.
RESPONSIBILITIES
The candidate should be highly motivated and interested in undertaking innovative and challenging research activities involving both theoretical analysis and experimental validation, in strong connection with an Italian company, specialized in processed food manufacturing, which will be the final user of the applications.
Technical and soft skills are strongly required to meet, during the research, a continuous trade-off between industrial needs and research challenges.
QUALIFICIATIONS
Applicants must hold a master's degree in Computer Science or Engineering, with a good background in design, analysis, and implementation of ML algorithms or areas related to data driven modeling. Solid statistical and coding skills are necessary. Proficiency in both spoken and written English is required.
ABOUT THE SCHOLARSHIP
This scholarship is part of the National Doctoral program (Ph.D.) in AUtonomous SYstems (DAUSY) (Scholarship n°33).
The grant provides, in addition to the monthly salary, funding for a research period abroad of 6 months with the prestigious Technische Universität Darmstadt (Germany) and a year of industrial experience with the Mafin S.r.l. company (Padova, Italy), a European leader in snack pellet production with the possibility of employment at the end of studies.
The Ph.D. student will have at his/her/their disposal 12.000 Euros extra funds for the personal support (purchase of materials, participation in training events, etc.).
APPLICATIONS
In order to enroll in the Ph.D. program, candidates must pass a public competition regulated by a specific Call for Applications. Info here http://dausy.poliba.it/phd/application/
LINKS
http://dausy.poliba.it/phd/wp-content/uploads/N33.pdf
https://mafin.it/en/
https://www.ias.informatik.tu-darmstadt.de/